Time (2020)
Garrett Bradley, director
Concordia Studios
The film "Time" is a documentary based on the actual events surrounding Sybil and Robert Richardson's incarceration. As parents of six children, their case serves as a prime example of racism and unfair sentencing of people of color within our criminal legal system. The documentary follows Sybil's fight to release her husband, while also shining a spotlight on how her children were impacted by these events. Between Sybil and Robert, a total of 31 years were served behind bars away from their family, despite the fact that it was a first offense for each of them. This documentary uses its platform to compare the treatment of those incarcerated to slavery which has impacted more then 2 million people who are incarcerated. Sybil and Roberts three boys describe what it was like growing up during this era in Louisiana and how their parents' incarceration has impacted them in their adulthood.
This film is available on Amazon prime at  Time: https://www.amazon.com/Time-Fox-Rich/dp/B08J7DDGJY
Jacinta (2020)
Jessica Earnshaw, director
Lunamax film
The documentary "Jacinta" focuses on the impact of addiction and incarceration on an entire family. The film crew goes to Maine and follows Jacinta during her initial incarceration with her mother and older brother while also bringing awareness to what the path of recovery can truly look like. An entire family plagued by the grips of incarceration provides first hand experiences on how it has impacted their economic situation, mental state, and even the way they view love. This documentary shows Jacinta's struggles within the criminal justice system as well as the hurdles she faces as a returning citizen recovering from addiction. Her story is the reality for many women and mothers within the jail system. Jacinta's ten year old daughter provides first hand experiences of how his mothers incarceration has impacted her own self esteem and their mother/daughter relationship.
This film is available for streaming on Hulu at https://www.jacintafilm.com/
Apart (2020)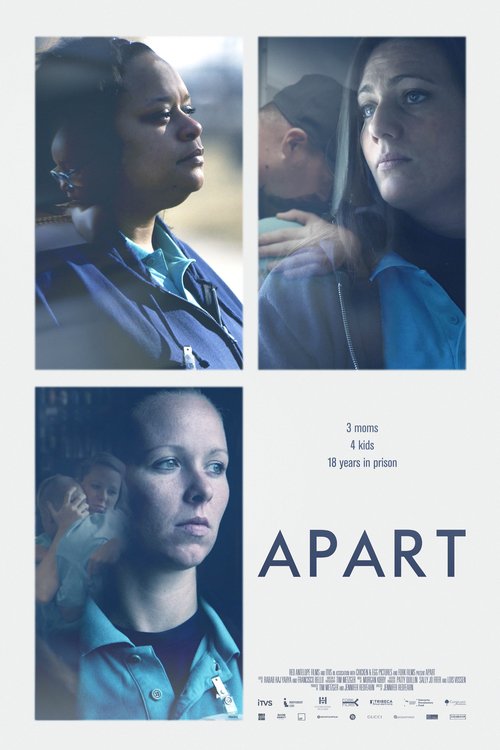 Jennifer Redfearn, Director
Red Antelope Films LLC
This documentary follows the story of 3 women in an Ohio jail who have struggled with being incarcerated and motherhood. While fighting harsh sentences, fines, and emotional trauma these women try their best to create new lives for themselves and their family while trying to stay out of prison. This documentary shows how the children and families involved view these women for their past choices and just how hard it is to escape the stigma that follows. Its as if the time served was just the beginning of the real hurdles to come. The children in this documentary shared a multitude of different emotions in regards to their mother's incarceration. Some felt resentment while others felt sadness, overall, the children's voices within this documentary are extremely important.
Apart is available for virtual and in-person community screenings, as well as Q&As with the film's participants and experts. Visit representjustice.org/campaigns/apart to learn more, or contact lillie@representjustice.org. You can also sign up for email updates at Represent Justice to hear when the film becomes available for home viewing.